Hey book readers,
I'm just making this post to give a more informative run down on the events hosted on my
Books and Tea Discord chat
but before I get to that I'll tell you about what the chat is.
Anyone is welcome to join, just click here.
Discord is a 100% free communication platform that can be ran in browser, desktop app or mobile app. It allows you to set up multiple voice and text channels to allow for talking about specific things. For my book clubs perpose me mainly make use of the text chats to talk about bookish things.
At the moment we host a few different events. The main type of event we do areread-a-longs with a few read-a-thons. We currently have a
travelling book project
that is close to ending - once it does I'll organise a new one, and during December we do a Secret Santa Book Exchange.
A read-a-long is where a group of people all read the same book at the same time. And we host at least one a month, with nominations and voting from you guys to ensure something popular is selected.
January:
Popular YA - Six of Crows Read-a-long
February:
Romance - Aristotle + Dante Read-a-long
March:
Staff Choice - Ice Massacre by Tiana Warner read-a-long
April:
#WeMissYou Auto/Biography Genre "Read-a-long"*; to those of you 2016 took from us
May:
#OwnVoices Read-a-long
June:
Support Our Author - Any book by S.C. Parris Read-a-long
July:
Science Fiction Genre Read-a-long
August:
TBD
September:
TBD
October:
Horror Readathon
November:
TBD
December:
Secret Santa
*This read-a-long isn't as structured together as everyone wont be intested in the same people who passed so I'll gather a few book recommendations and people can pick the right one for them.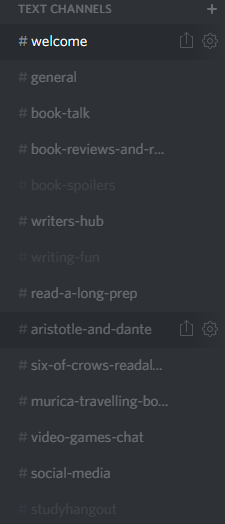 W

HAT DO YOU TALK ABOUT IN THEM

?
#welcome - Read through this chat for rules, channel info, bot help, and events. Any new announcements will be posted here too with the @everyone tag.
#general - Talk here about anything, book related or not. Get to know the other book club members.
#book-talk - If general is moving too quick and you want to talk specifically about books, or ask a bookish question, and it not get lost use this channel.
#book-reviews-and-recs - Ask for recommendations, leave links to/write reviews you like/wrote, or leave recommendations here to stop them being lost.
#book-spoilers - If you want to discuss a book with someone and know it could spoil it for others please use this channel OR if you just need to talk openly about a book and might spoil it uise this chat. Worried about making use of this in case of earlier spoilers mentioned? Its okay I'll empty the chat weekly.
#writers-hub - A little cafe for y'all to talk about your writing things
#writing-fun - As a group write a short story. Any one may take part but do so properly to not ruin the goal/fun for others.
#read-a-long-prep - For nominating and voting books for our monthly read-a-longs
#"book-name"-readalong - A chat for those taking part in the read-a-long to discuss the book at hand without spoiling it for those who didn't want to take part.
#murica-travelling-book - A private chat for Allie to keep track of those who're taking part in the travelling book project that is soon ending. (I will host another sometime this year)
#video-games-chat - As we have members who're here soley for books, keep all video game talk here please.
#social-media - To share your social media links, for privacy and safety reasons its available for @Book Dragon +
#studyhangout - For those of you still in education and need help or encouragement. To minimise spam its availble for @Book Drake +
But Lauren, that is a lot of chats?
As an admin yes there are a lot of chats for myself to view and keep up with but heres the cool thing,
as a new member you can't see any of the read-a-long or travelling book project chats.
You see what is relevant to you.
If you want to sign up for a read-a-long, sweet just ask and we'll add you into the role (or you can read the welcome chat to see how you can add yourself in).
ROLES
The function of roles in Discord means that I can set it so only the members with that role can see certain chats, and if you want to be sure to talk to everyone in that role you can @"rolenamehere".
The image below is taken from our welcome chat which might help you to understand roles a little better: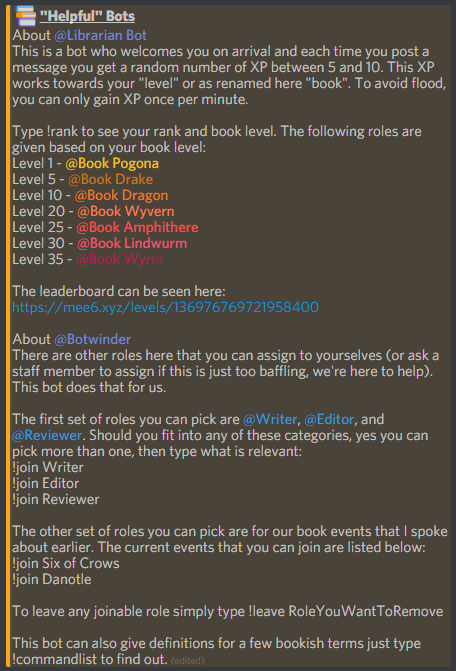 I think I've covered everything now. If you have any questions please ask so I can update this post.
And lastly, here is another link you can click to join the chat.