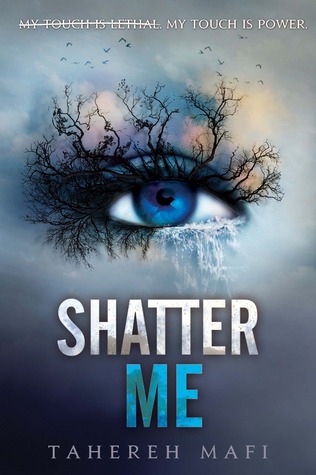 Synopsis:
Juliette hasn't touched anyone in exactly 264 days.

The last time she did, it was an accident, but The Reestablishment locked her up for murder. No one knows why Juliette's touch is fatal. As long as she doesn't hurt anyone else, no one really cares. The world is too busy crumbling to pieces to pay attention to a 17-year-old girl. Diseases are destroying the population, food is hard to find, birds don't fly anymore, and the clouds are the wrong color.

The Reestablishment said their way was the only way to fix things, so they threw Juliette in a cell. Now so many people are dead that the survivors are whispering war – and The Reestablishment has changed its mind. Maybe Juliette is more than a tortured soul stuffed into a poisonous body. Maybe she's exactly what they need right now.

Juliette has to make a choice: Be a weapon. Or be a warrior.
I've heard so much about Shatter Me over the years. Its ranged from people hating the first book and not reading more and others adoring everything about every book, so I was a little sceptical going in.
I'm not going to be cryptic and keep this spoiler free as I know a lot of people have read it by now.
The start I found pretty interesting as Juliette is alone in a cell and has no one to speak too we have a lot of time to focus on her internal monologue, her hopes and fears. I think it becomes clear that she is wounded but strong as she's been living locked away for such a long time.
Her fascination with the outside world is interesting as it starts to build a description of how her world used to be and what it's like now, or rumours at least. It has been devastated by humans - trees and animals no longer exist as the land is not fertile. Even birds are a thing of the past and Juliette watches out for one every day as a symbol of hope.
Not far into the book Adam is introduced as her cell mate. I don't trust him or this happening as it seems like a very strange thing to do, particularly as we learn she has never seen another person being held in the "mental asylum" and they don't even provide guidance on where the showers are. You have to find them in the dark yourself and hope you make it back in time to your cell.
His presence is worrying too me because of how friendly he is and wanting to talk to her. She's also a bit torn about this because we learn that she has actually met him in her previous life before this cell - he was a classmate of hers though they never spoke.
This is also the same time that it's even more strongly hinted at that she can't touch people for one reason or another. This knowledge is constantly hinted at throughout the start of the book but it's at this point you can see her panic about him possibly touching her but also the want she has to be touched (the comfort of having someone hug you or look after you). But alas he can't.
It's here I get a bit iffy with the book though because at some point it becomes noticeable that she has strong feelings for Adam, or at least the Adam in her past. Once we find out that they are indeed the same person and she's not just imagining things she really does have feelings for him.
Only to have them horribly shattered to pieces as she learns he is part of the army for the Reestablishment. At this point though Juliette did keep noticing little things that Adam did that for the reader made it obvious he wasn't 100% with the Reestablishment but cause she was so angry she kept shutting him out and getting worked up so it took her a little while to notice this.
Warner is the leader of this sector of the Reestablishment and any scenes with him in made me feel sick. His actions and the things he says all line up with that of an abusive person. He gives her "safety" and promises her a "better life" all she has to do is become his torture tool. He wants to strip away her humanity and turn her into a monster or machine. It's rather horrifying.
I seriously hope that in the later books he doesn't face some kind of stupid "redemption" plot line and become a "love interest" because honestly the way he spoke and acts was disgusting. He also forces another man under his control to touch her just to demonstrate to all the soldiers how dangerous she is.
Whilst being under Warner's command she remains set on not wanting to help him and continues to refuse to touch Warner so he can see what her powers are like. On the happier side of things though she gains trust and friendship back with Adam and learns she can touch him. The feelings she felt whilst realising she could touch someone were really interesting and I think that Mafi wrote this well. Though I couldn't help but think that it was a huge coincidence that the one person who could touch her was the one man she loves.
Eventually Adam and Juliette are able to escape from Warner's clutch. Quite literally he grabs her leg whilst she tries to escape and guess what ...nothing happens. So now her whole refusing to touch (i.e. hurt) the horrible man keeping her prisoner makes sense. It was because of this story plot. Ah okay.
I felt a bit let down by that. I really did.
Also why are these the only two who can't touch her? They've got to be like at least related or something right? Otherwise it's far too many coincidences for me to handle.
After their escape we meet Adam's brother - James - a ten year old who is precious and full of youth, and shortly after Kenji. Kenji was a soldier with Adam and he was beaten after Adam's escape. Beaten badly. He is the one who mentions he has somewhere safe they can all go and hide but he's very secretive on the whole matter.
I'm not quick to trusting Kenji but he turns out to be an okay guy and after a brief encounter with Warner (where Juliette maybe shoots him and does beat down a steel door – woo power – to save Adam) he drives to safety. To the movement.
Yeah so he's basically one of the rebels and they team all get healed up and rested and we meet the leader of the movement who is basically Professor Xavier from X-men (yes like having Juliette's powers be similar to Rogues are not enough we have this comparison too).
This last section, within the underground camp of the movement, is probably one of the stronger parts of the book. The writing isn't as artsy and descriptive but the story opens up a lot more. We get more answers and it shows the potential this series has. This is basically why it is a 3 star rating for me. I didn't hate it. I just had a lot to say, a lot to complain about, but I can see the potential in it and I'm somewhat interested in seeing how it develops.
Kenji and James were hands down my favourite characters, and Juliette isn't too bad when she's not thinking one thing and doing another for plot point reasons. Adam is basically from heaven, he's set out as perfect in every way imaginable and always puts the wellbeing of James and Juliette before his own (this is why I'm a bet meh with Adam's character, he's great but you know, just too great).
TLDR: Too many coincidences. Good world and story. Has potential.
Other books in the series