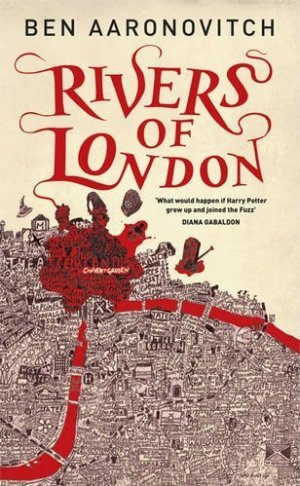 Rivers of London by Ben Aaronovitch
Published: January 20th 2011
Synopsis:
Probationary Constable Peter Grant dreams of being a detective in London's Metropolitan Police. Too bad his superior plans to assign him to the Case Progression Unit, where the biggest threat he'll face is a paper cut. But Peter's prospects change in the aftermath of a puzzling murder, when he gains exclusive information from an eyewitness who happens to be a ghost. Peter's ability to speak with the lingering dead brings him to the attention of Detective Chief Inspector Thomas Nightingale, who investigates crimes involving magic and other manifestations of the uncanny. Now, as a wave of brutal and bizarre murders engulfs the city, Peter is plunged into a world where gods and goddesses mingle with mortals and a long-dead evil is making a comeback on a rising tide of magic.
Review:
This book sounded like my cup of tea the quote on the book is
"What would happen if Harry Potter grew up and joined the fuzz"
and I absolutely love Harry Potter, so this for me sounded absolutely fantastic. Unfortunately though it really didn't pull me in. I couldn't immerse my self in this world and therefore I just couldn't be bothered to read it. The story was okay, the characters were okay and to be honest everything about this book was just okay. There were some plot developments that made me go ooh I wonder what will happen next, but most of it had already been discovered. I like crime novels to uphold a sense of mystery until the end then slap me in the face with a shocking revelation, and this book really didn't pull that off which I thought was a shame. It was pretty well written though it felt like I was reading something that could have been great but unfortunately fell into the good category.
Recommend: Maybe. its not a horrible book I just didn't enjoy it as much as I thought I would.