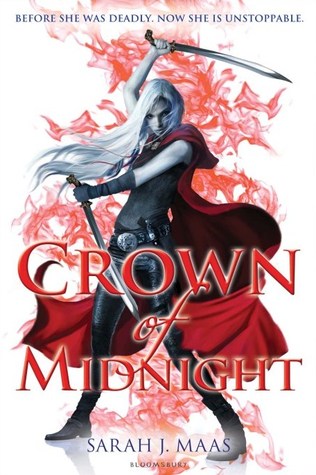 Synopsis:
Crowned by Evil.
Bound by Duty.
Divided by Love.

Celaena Sardothien, royal assassin, is the King of Adarlan's deadliest weapon. She must win her freedom through his enemies' blood - but she cannot bear to kill for the crown. And every death Celaena fakes, every lie she tells, put those she loves at risk.

Torn between her two protectors - a captain and a prince - and battling a dark force far greater than the king, Celaena must decide what she will fight for: her liberty, her heart or the fate of a kingdom...
Crown of Midnight follows on not long after Throne of Glass finishes, we're introduced to Celaena as the King's Champion and how Dorian and Chaol are dealing with how obedient she is.
But is everything as it seems?
No, of course not. Nothing ever is with Celaena and at first it puts a strain on her friendships.
Personally I felt that the first half of this book aimed to fill out the characters more, to expand on the existing friendships and to give more depth to them, whilst also toying with our emotions with the romance element to the story.
I found the second half was the better half, its the action packed and eye-watering race against time and threats that has left me forgetting a lot of the first half.
Though I should point out that I write this months after finishing and up to date with the series so separating the books isn't as easy as it would've been if I had decided to tackle these reviews earlier - well done Lauren.
The proper introduction of the rebels really moves the story along, forcing a lot of changes upon Chaol and Celaena, though all orchestrated by Nehemia who sacrifices a lot to push Celaena to make decisions she had previously said she wasn't ready to make.
The development of the Wyrdkeys, gates and demons also adds more to the story - forcing Dorian to show the magic he's been hiding for a lot of the book, Celaena showing her true power and form to save Chaol and Fleetfoot, and Chaol struggling to accept that both his best friends have something he's grown up in fear of but also willing to risk his life to save them both.
So in the end not just Celaena who has to face living a double life, and it is interesting watching how the others deal with everything they're faced with, having to question their own beliefs or actions.
"But the hound didn't whine or bark for the stick to be thrown. No, Fleetfoot just kept sitting there, watching the palace far behind them. Waiting for someone who was never going to arrive."
In the end Chaol sacrifices his own freedom in hopes to help get Celaena somewhere safer now he has seen her true form, but their goodbye leaves him finding out more truths that may be even harder for him to accept and come to terms with.
Dorian struggles with his new found power and, as he's left in the dark about Chaols plan, the betrayal of Chaol sending Celaena across the sea to be a great aid to the King.
Ultimately this book emotionally tore me apart, I cried a lot and had screaming fits with my flatmate who read it with me. I couldn't put it down. I loved it and I'm afraid this review does not fairly put across the full effect of this.
5 stars / 5 stars
I've reviewed another book in this series