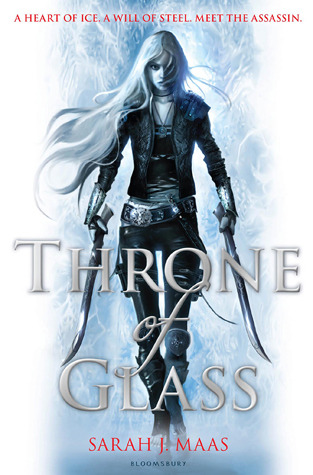 Synopsis:

Meet Celaena Sardothien.
Beautiful. Deadly.
Destined for greatness.

In the dark, filthy salt mines of Endovier, an eighteen-year-old girl is serving a life sentence. She is a trained assassin, the best of her kind, but she made a fatal mistake: she got caught.

Young Captain Westfall offers her a deal: her freedom in return for one huge sacrifice. Celaena must represent the prince in a to-the-death tournament—fighting the most gifted thieves and assassins in the land. Live or die, Celaena will be free. Win or lose, she is about to discover her true destiny. But will her assassin's heart be melted?
Throne of Glass has been one of my favourite series I've read this year, and as with any of my favourite books I usually don't review them.

Seriously, I struggle so much to review books that I've loved every chapter, every character, and every second of because deep down I feel like I'm just a raving fangirl.
Which is why I'm challenging myself to review this series, although a little too long after the initial read.
Throne of Glass follows Celaena, an eighteen year old girl, slave, asssasin.
She must earn her freedom by winning a tournament to become the Kings Champion for a few years, the King who put an end to all magic across Ardalan, who's murdered thousands, and held thousands more as slaves. He truly is horrifying.
"a lovely girl gazing at the stars, and the stars who gazed back."
Her story is one of growth and strength, love and loss, and lots of chocolate cake.

On top of Celaena having to win the competition, she has to remain unknown, if people knew she was Ardalan's Assassin they would see her as more of a threat and ruin her chances of winning, but pretending to be a weak little girl isn't easy for her.

Also there is something prowling the castle dismembering and shredding up the competitors, can Chaol the Captain of the Guard and her figure it out before it starts going for them, or Dorian the Prince? It was a gripping read okay!

There is also mention of fae within which is a mythical creature I'm always down for reading more about because they can be interpreted so differently.

The world building in the first book is enough to realise how wrong their lives are because of the King and the tourment he's created.
The characters are to die for, I've grown so strongly attached to many of the character in this book. Some that were simply in passing for a few chapters, others who've stayed for the whole book and developed into people that I didn't expect.

I loved reading this.

And more importantly I loved Celaena, she remained a strong and powerful female character without being stripped of her emotions, her femininity and her love for cake, men, and puppies.
5 stars / 5 stars
I've reviewed another book in this series