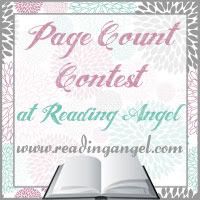 Angela from
Reading Angel
is hosting her monthly page count contest and I figured I'd join in this month, unfortunately I know I wont get a high number because this is for YA and Adult books only - no children's or picture books, comics of graphic novels or mangas and no audio books - and I know the majority of my reads this month will be graphic novels. Never the less here I am taking part so I can get into the flow of things and hopefully I can take part next month too!
Week 1:
Divergent by Veronica Roth - 487 pages
Free Four: Tobias Tells the Story by Veronica Roth - 13 pages
Total: 500 pages
Week 2:
Graphic Novels only
Week 3:
Dark Kiss by Michelle Rowan - 348 pages
Tallis by M.C. Rae - 58 pages
Pushing the Limits by Katie McGarry - 384 pages
Total: 790 pages
Overall: 1,290
Week 4:
Bloodlines by Richelle Mead - 421 pages
Overall: 1,711 pages
I think I'll take part next month too, even though I didn't make it to the top 20 list and I doubt I will next time either, but I do think it'll be interesting to see whether I can beat my own record.