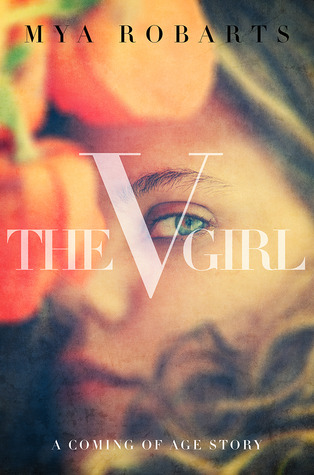 The V Girl by Mya Robarts
Series: Standalone
Genre: Young Adult / Dystopia
Length: 298 pages
Published on 20th June 2014 by Mya Robarts
Purchase:
Amazon US / Amazon UK / Ko

bo
Synopsis:
In post-apocalyptic North America, rape and sexual slavery are legal. Lila Velez, desperately wants to lose her virginity before the troops visit her town, and can take it away by force. She makes plans to seduce her only friend, Rey, the most attractive man in her town. Lila does not love him, but he is the only man who has shown her true affection, an affection she is willing to take as a substitute of love.
Lila's coping mechanism to her mother's violent attack is her secret. A secret that will bring her closer to Aleksey Fürst, a foreign, broody man that she distrusts because his links to the troops and his rough, yet irresistible appearance. He offers Lila an alternative to her plans, a possibility that terrifies her…and tempts her in spite of herself.
All the while Lila will have to find a way to live in the constant company of death, slavery, starvation, sexual abuse and the danger of losing the people she loves the most.
Due to strong language, violent scenes and sexual content, this book is not intended for readers under the age of 18.
Mya Robarts:
Website
|
Twitter
|
Facebook
|
Goodreads
I am a bookaholic and regret nothing.
I spent years trying to become a contemporary dance choreographer. Eventually I realized that I enjoyed writing my stories rather than creating dances for them.
I am obsessed with books that present damaged characters, swoon worthy guys, controversial topics and happy endings.
I look at him questioningly. "I don't know anything about you."
The cop looks down at himself and smiles wickedly. "You know my feet are big. What is left to know?" So many things. Like who are the people he cares for.
For a few minutes, I bombard him with questions. 'Who taught you to play bass?' 'Who do you fight for?' 'Is there anyone waiting for your return?' and others of the sort. He gets closer to me with each question he politely refuses to answer. We stand very close to each other and electricity sizzles in the air. I forget what I was about to ask.
My back finally hits a tree. I can't step back anymore, so I tread to my side, stepping on a rock.
This position erases our height difference. He presses his palms on the tree trunk next to my head, trapping me.
Looking at me intently, he takes a strand of my hair and twirls it before putting it behind my ear. The way his hand lingers in my earlobe leaves my skin tingling.
My voice comes out breathy. "I'll … have to think … your offer … through."
His voice is low, husky. "I'll give you something to think about."
Aleksey slides an enormous hand around my waist, pulling me closer. He positions my body, so the difference in height isn't an obstacle. He's building anticipation first, making the wait for his lips deliciously torturous. His face slowly, deliberately approaches.
When his lips touch mine, it's a soft brush that makes my body melt into liquid fire. Then they move against my mouth hungrily.
And everything that isn't his body vanishes into thin air.
He's showing me that he can be gentle, but I want more. My hands grab his shoulders forcefully. I press my body tightly against his, and he mirrors my action with his pelvis, blending it with mine. Showing me through his erection the promise of greater pleasures.
I whimper. Automatically the kiss deepens. His bulky arms tighten their grip on mine. My skin burns and tingles in all the points in which our bodies are touching.
I've never been kissed like this. Deep and lingering at times, playfully pulling my lower lip at others. Expertly moving his lips to my earlobe and neck before returning to my mouth. He doesn't make me feel like he's kissing me. He makes me feel like he owns me. I feel it in the way his enormous hands move up and down my sides, the way his strong arms are constricting me. It makes my blood bubble deliciously with a desire I've never felt before.
I can't get enough of him.
He keeps kissing me like this until he finally pulls back, touching his forehead to mine and resting his enormous hands at the small of my back. I struggle to control my breathing. My heart pounds harshly against my chest, and I'm sure he can hear it. It's not embarrassing because I can see that I affect him, too. He's struggling to recover his cool, arrogant demeanor.
"Surrender," Aleksey whispers, still holding me tightly against his body. He skims his nose along my jaw to my neck. "Surrender to me and I'll …"
His lips at the hollow of my throat speak louder than words. If I surrender, the pleasure will be like nothing I've felt before. I can't barely manage it now. If this is what he makes me feel with a full-dressed kiss, how would it be if we were scantily clothed, exploring our bodies in a private place? I'm dying to find out, but I can't overcome my reservations.
a Rafflecopter giveaway
Thank you Xpresso Book Tours for allowing me to take part in this book blast. Also thank you to Braine @ Talk Supe for not minding that I used "Feature" in the title, listing "Book Blast, Excerpt & Giveaway" takes up so much room and I'm just not feeling it any more.